4 Reasons You Can Create Clear Precise Markings With Rimet Professional Quality Number And Letter Metal Punches
4 SPECIAL FEATURES:
Made from S55C carbon steel to hardness HRC58-62.
The cutting face is supported on a triangular base. This prevents the numbers and letters shattering or crushing when marking hardened metals.
The square steel construction means the punches do not bend on contact with metal to be stamped.
Shot blast finish of the punches makes them rust resistant.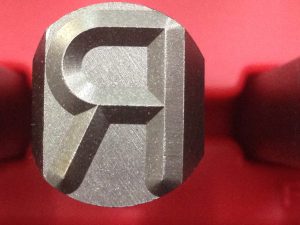 Cutting face on triangular base
4 STYLES OF RIMET PUNCHES to suit individual requirements.
STANDARD LETTER SETS & NUMBER SETS
A-Z & 0-9 available in sizes from 1.5mm up to19mm.
RIMET NUMBER PUNCHES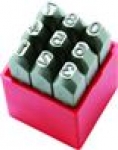 REVERSED LETTER & NUMBER SETS
For applications where reversed markings are required.
Available in 2.5mm, 3mm, 5mm, 6mm, & 8mm.
DOTTED LOW STRESS PUNCHES
For use whenever reduced stress marking is required because of strength of metal and fracture risk.
in aircraft and oil supply industries.

Letter Sets:  available in 3mm & 6mm.
Number Sets: available in 3mm,4mm,5mm,6mm,& 8mm.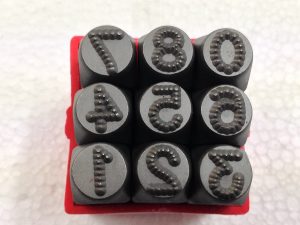 RIMET DOTTED LOW STRESS NUMBER PUNCHES
TYPE HOLDER SETS
For marking metal and date coding paper products for the packaging industry.
For marking serial numbers, dates, model numbers or part numbers with perfect alignment.
Kit includes:
type holder,
hexagonal                                                                                                                                                                                                     wrench,
52 letters (2 each A-Z),
37 numbers (4 each 0-8, 6 is used as 9) one '&', two '/', two '–' and 6 blanks.
Packed in a strong red plastic case.
Available in 3mm, 5mm &6mm.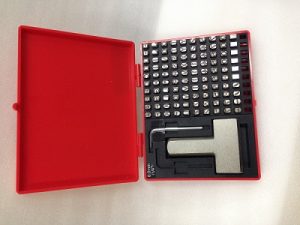 RIMET TYPE HOLDER PUNCH SET
All sets are packed in sturdy plastic cases.
For further information on RIMET products contact Robinson International Pty Ltd
Ph: 02 9519 4566         Fax: 02 9519 4520
Email: enquiries@robinsoninternational.com.au