Cheap Sydney Airport Parking – Save on Airport Parking and Spend It on Something Else
Travelling in the wee hours or busy traffic in public transport can be quite stressful. Think of a situation where your reporting time is over, and in 1 hour you have your flight and the public transport taking its own sweet time to pick and drop passengers at various points. Anyone can lose their composure when such a situation arrives.  The only thing that comes to mind is, "wish I could drive my vehicle, reach the airport, and leave the car in safe hands". Air Travel Parking makes your dream come true. We are your trusted provider for Airport parking at Mascot, just near the Airport. You are not subjected to airport rates as we are the parking facility positioned just outside the airport itself.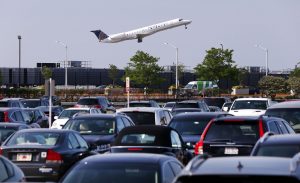 Why should you select our Cheap Sydney Airport Parking service?
We offer you an easy and simple solution to secure airport parking for your vehicle. No need for waiting in the queues or begging your friends to help you reach the airport at 5 am anymore. With Airport parking at Mascot, we make your airport parking affordable and simple. At Air Travel Parking, we value your car while you are away and offer 24/7 onsite security to your car parked in our secure and cheap Sydney airport parking facility.
Our services are not just limited to cheap Sydney airport parking; we also offer onsite hand car wash and polish service on request at a small rate of $30. We offer both long and short-term and covered and uncovered options for Airport parking at Mascot for your vehicle. No matter how long your trip, you can feel secure. If you are worried after choosing the uncovered option and your car facing the harsh weather conditions, our surveillance security and car washing service may ease your tension. So, whether constant business travel or a less regular leisure trip, our cheap Sydney airport parking services are forever at your service.
How does our system work?
Our rate for Airport parking at Mascot is highly competitive. So, drive into our secured with surveillance cameras and well-lit parking facility and register your details to let us complete your parking ticket information. It also contains your return flight details and other info. Although, just a matter of a few minutes, we offer free shuttle service to drop your luggage and you to the airport. When you return to Sydney from your trip, just give us a call at 02-8668 5129, and one of our friendly drivers will be there at the airport to pick you up. The system is really easy, and one just needs to understand it.
So, pack your bags and travel at the comfort of your car without worrying about getting late for your flight or condition of your car. You may call us, your reliable provider for Airport parking at Mascot or book your package through our site. You may visit us directly and book service too. So, what are you waiting for? Relax and have a pleasurable trip always.