What is a commercial rangehood?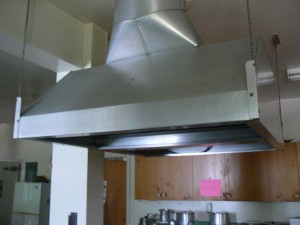 There are many different elements that you deal with in a large commercial kitchen. These are typically inclusive of fumes, food odors, excessive heat and smoke. For this reason , an efficient exhaust system is necessary to take care of the situation. Not only would a good exhaust system keep your kitchen neat and clean, but more comfortable for your chefs as well.
The best thing for you to do in this regard is to consider the installation of a commercial rangehood. These are more like commercial exhaust canopies that are produced on a large scale to benefit the kitchens of restaurants, diners and other establishments where food is prepared and served to the masses. These units are made out of stainless steel, where some parts of the same are occasionally made of aluminized steel.
Every single element associated with a commercial rangehood is more so 'heavy-duty', and that is just why these are meant to be used in commercial settings. Also, when you set out to purchase these commercial exhaust canopies, make sure that you don't buy a decorative system – just buy one that is going to get the job done for you.
There are different models of commercial rangehoods available these days. For instance, there are island models, and wall canopies. Each of these models come with their very own features, so buy one that is going to benefit you the most. To access a variety of rangehoods, make sure that you get in touch with Commercial Rangehood now!