Jumping Castle and Party Hire – We have All Your Party Needs Covered
There are numerous ways to impress your guests during a special event or party. However, if you are in Sydney, make sure you try jumping castle from us, Jumping Castles "R" Us as it is sure to provide you and your guests the kind of entertainment you never enjoyed before. What makes us the best provider of party hire services is that we can offer you services as per your requirement and budget. All our services and products are designed and developed keeping your needs in mind. Therefore, you are sure to have peace of mind whilst knowing that your party will rock.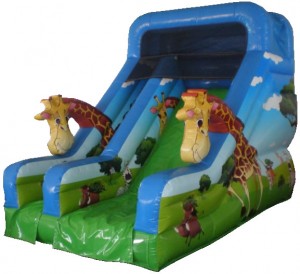 Our jumping castle is excellent for your party because it will never fail to entertain your guests, no matter what their age is. Being a specialised party hire provider you can easily get different kinds of castles from us. In fact, through us you can get castles of different sizes, colours and themes. You are free to check out our collection of castles and choose one based on your party requirements and budget. And do not worry about the quality of castles you will receive from us. All our castles are carefully built and checked thoroughly before they are installed at your place.
As a part of party hire service package, Jumping Castles "R" Us also provides free delivery, installation and pickups of castles. Therefore, you need not worry about useful services that will be provided to you during your party and instead concentrate on matters that are more important to you. Our jumping castle hire specialists understand that castles can surprise and entertain guests of all age groups and keep them interested in your party. Therefore, you can be sure to get the kinds of services you were looking for through them. Contact us today to find out how we can be of help to you.
If you are looking for ways to impress your guests and keep them happy all through your party, then you can try jumping castle through party hire services from Jumping Castles 'R' Us. You will be happy for sure.