Jumping Castle will be the Perfect Addition to Any Party
Keeping children entertained at a birthday party can be a very challenging task. If you can't think of anything new to do for your child's party, consider hiring a jumping castle from Jumping Castles R Us! Jumping castles are loved by not just kids but also for adults so it is a great addition to any party.
Keep Kids Busy And Happy
Party hire companies usually have a huge range of jumping castles to select from. It will provide excellent entertainment at the party, keeping kids busy as well as happy for hours. If you're arranging a party at the last moment and don't have much time to make the arrangements, this would be an excellent choice. You wouldn't have to worry about decorations, party games or anything else.
A Cost Effective Solution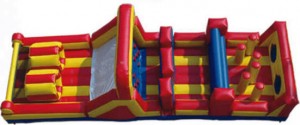 Hiring jumping castles is not just fun for the kids but is also quite cost effective when compared to hiring performers or mascots for the kids. Simply hire the jumping castle, assign someone to supervise the kids while they play and you'll have the time you need to take care of the food for the party or simply mingle with the guests. Party hire companies today have an impressive range of jumping castles to select from so you can find one that matches the theme of your party.
If you take the time to ensure that you find the right sized castle for the party based on the number of children you've invited and their age group, you'll have nothing to worry about. Safety is an important consideration so ensure that the kids are safe when they're playing in the jumping castle. Never leave them unsupervised. Assign a responsible teenager or an adult to keep them safe.