Selecting the Best Marquee Hire for Your Wedding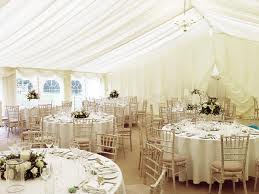 The acquisition of a marquee hire is important for all sorts of events, especially weddings. It is however important that you choose the best that will suit your event. This therefore underscores the importance of knowing the different types of marquees that are available before you contact a party hire company to provide them.
Traditional pole marquees
These are usually made of canvas and are kept firm with guy ropes and support poles. The guy ropes are usually attached to soft ground. This type of pole has however become a thing of the past because it is difficult to get soft ground to install the guy ropes.
Aluminium frame marquees
Unlike the traditional pole marquee, the aluminium frame marquee is strong because it depends on its rigid aluminium frame to hold the tent in place. An advantage is that there are no supporting poles that can cause obstruction within the marquee. The aluminium frame marquee can be used anywhere and does not require a special type of soil. Apart from the aluminium, frame marquees are made from PVC or polythene material and this adds to the ruggedness of the marquee.
High peak marquees
High peak marquees are similar in structure to the frame marquees. The major difference between this two is that the high peak marquee has a so called floating pole which is secured by cables. These cables run across the tent well above head heights. The high peak marquees are attractive in terms of aesthetics and can easily be erected.
With this, it is easy to make a marquee hire choice for your wedding. You can get this service from any party hire company around you like Walkers Hire and it will save you money renting this equipment as opposed to purchasing it.