Slushie and Glow Furniture Hire Services at Unbelievable Rates
It is absolutely important to have the right kinds of drinks and foods at your party to ensure your guests are happy and comfortable at your event. It is also important to serve these items fresh just to make sure no guest at your party event is dissatisfied with the taste or flavour. Therefore, to ensure you have the best drinking combinations available at your place you need to have our slushie machine hire services at your disposal. Do not worry; Bargain Party Hire has been providing these packages for several years with excellent reputation. You are sure to get quality and a wide range of choices through our drink mixes. We also excel in providing glow furniture hire services in Sydney as we believe they can make a real difference to your party atmosphere.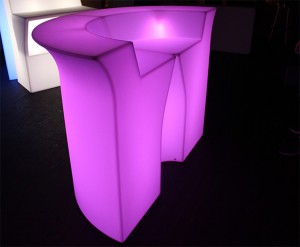 The best part with our glow furniture is that they are all powered with LED lights and work at their best under the cloud of darkness. Through our glow furniture hire services you will be eligible to get a host of glow furniture items that you can use at your party venue to not just light up your place, but also give your guests to use them for seating or dining purposes. Each of our glow furniture comes with 15 colour settings and you can keep changing them depending upon the mood at your party or its theme. As you can see, there are plenty of possibilities you can look forward to in having our glow furniture. And when it comes to providing a lot of drinking options for your guests, nothing can really beat our slushie machine hire services as they are among the most flexible and reliable packages you will get in the city. While kids will love having our cool drinks as it is, adults at your party can consider having them with alcohol to get some variety in their frozen drinks.
It is important to have glow furniture and slushie machine at your party if you want to entertain your guests. You can get a variety of these services and a lot more in Sydney through Bargain Party Hire.