Meet and Greet Sydney Airport Transfer Like No Others
When you want to reach the airport quickly and safely or when you want to reach your destination in Sydney quickly from the city's airport, the only service provider that can assure you of these things is Star Shuttle. Having been in the business of providing safe, reliable and affordable door to door transfer services in the city, we certainly care for your travel requirements and can guarantee you of providing best-in-class travelling experience in Sydney. Our Sydney airport shuttle services, for example, takes into consideration your requirements and can provide travelling services matching them. In choosing us, you are sure to get modern, well equipped buses and shuttles round-the-clock so that you can travel around Sydney whenever you need. Furthermore our Sydney airport transfer services are among the best you can get anywhere in the country, let alone in Sydney.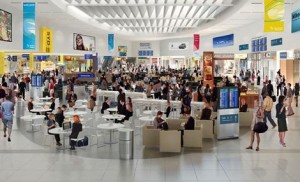 It does not matter how many people you are traveling with, Star Shuttle can provide Sydney airport shuttle services accordingly. We have some of the finest and reliable shuttles at our service that are guaranteed to provide you comfortable, safe and luxurious travel experience around Sydney. That's not all; we also provide meet and greet service to you so that you are met immediately after landing at Sydney's airport. Our direct Sydney airport transfer services mean that you will not have to share our services with anyone else. Our shuttle services take care of all your minute details so that you can travel hassle-free. For example, if you are carrying excess luggage with you, then ask for our luggage trailers so that they can transfer your luggage effortlessly. Similarly, if you have a baby travelling with you, then ask for booster seats or baby seats and so on.
Before we provide you our shuttles and buses through our Sydney airport transfer packages, we make sure our vehicles are in right condition to serve in the best possible way. We wash our vehicles daily and service them at regular intervals. Therefore, it is not surprising to see Star Shuttle's Sydney airport shuttle services being rated so highly across Sydney.
Sydney airport transfer services do not get better than the ones provided by Star Shuttle in Sydney. What makes out Sydney airport shuttle services special is that it takes into consideration all your requirements and provides customised services accordingly.