Honest Sydney Airport Transfer Company at Affordable Prices
If you are looking for affordable and reliable Sydney airport transfer services in Sydney, then your search will end with Star Shuttle. We have been the leading service provider in the region for a number of years and our services are directed to a group of 5 or more people. We have a wide range of buses to make your trip luxurious and comfortable. If you think our prices are high, then you wrong. Though our Sydney airport bus services and other services are of highest standard, we have purposefully kept our prices low so that all clients can access them without any hesitation and travel around Sydney comfortably.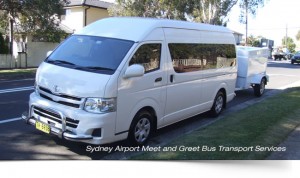 The best part in choosing Star Shuttle for Sydney airport bus services is that we provide only latest models of buses for your needs. It does not matter how many people you are travelling around in Sydney, we can provide you buses accordingly. Our Sydney airport transfer services are quick and efficient. Whether you want to use them to travel to Sydney's main airport or reach your hotel from the airport, our transfer services will help cater to all your needs.
With over 15 years of experience in providing Sydney airport bus services in the region you can consider us as experts and deliver the kinds of services you will be really proud of. We operate our shuttle services round-the-clock and provide all basic features in our vehicles. So you can rest assured that your journey will be a comfortable and luxurious one. Our direct Sydney airport transfer services will ensure you will not share your journey experience with anyone else. And should you need extra features in your vehicles, like booster seats and baby seats, Star Shuttle can provide them to enhance your overall experience. All the vehicles provided to you on hire are checked thoroughly and cleaned before they are put for service. Also our staff members are friendly and professional. You can expect them to help you at every stage of your journey.
Star Shuttle is the best and honest Sydney airport transfer company in Sydney. We also provide affordable and value for money Sydney airport bus services in the city.