Wedding Bus Hire Sydney –Keep Your Stress at Bay with Star Coach Charter
A wedding can be extremely taxing occasions even at the best of times, with several visitors to organise, and things to plan. It can all get slightly overwhelming. Travelling is the most stressful part of all. Arranging so many people and transferring them to the venue becomes a real headache when you have so much more important to do. In such situations, the Star Coach Charter hassle-free and easy going bus hire Sydney services come as a real relief. We offer a range of services in Sydney when it comes to bus hire. One of them is the wedding bus hire Sydney service that has been designed to eliminate all the hassles that come up during the wedding. From organising transport for your guests to and from your big day to ensuring your guests reach home safely after a few drinks, Star Coach Charter has specific destinations across the Sydney region and can arrange multiple pickup and drop-off points.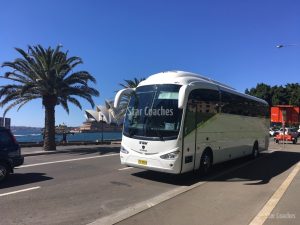 Star Coach Wedding Bus Hire Sydney Service
With our stylish fleet of wedding bus hire Sydney, we transfer your guests and you to your destination safely & comfortably. Star Coach Charter incessantly invest in the fleet of buses to meet the rigorous standards set by us that include air-conditioning, reclining seats, toilet, and large luggage capacity.  We have a selection of luxurious coaches/buses, both traditional and contemporary in a range of sizes. Enjoy a stress-free and smooth wedding day with our wedding bus hire Sydney.
When you hire a wedding bus, you can travel with confidence and in style. You can spend some good time with your close ones on your big day while a private driver keeps your events flowing smoothly. You can rest assured that your guests can ride to the reception without worrying about getting late or finding parking while you are busy in the wedding rituals or clicking pictures. You can ensure everyone return home safely and soundly when you opt for bus hire Sydney.
Our Range of Bus Hire Sydney Services
Apart from wedding bus hire Sydney, Star Coach Charter also offer various other bus hire Sydney services like corporate bus transfer, school transfer, Sydney Airport transfer, cruise ship transfer, Sydney sightseeing tours and more. Our staffs work around the clock, not only behind the wheels but also with logistics. You can rest assured that whatever job you assign to us, it will be completed with perfection.
Star Coach Charter is one of the premier buses hire companies in Sydney with experience and resources to ensure bus hire Sydney is professionally scheduled and organised as per your individual travel needs. Our passion drives us, and we offer you not only with a means of travel but a meaningful travel experience. Get in touch with us for more info on the wedding bus hire Sydney services. Our friendly customer support team helps you in every way to customise your requirement and get the perfect solution.