Glow Furniture and Dance Floor Hire for your Events
If you are planning an event in your house or any other location, you can easily add spice to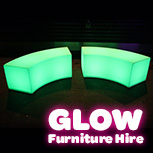 the event and impress your guests by hiring glow furniture.
Glow furniture hire makes use of LED (Light Emitting Diodes) lights and are usually powered by batteries and do not require much energy when you compare them to the traditional incandescent light. There will be no need to run power cables because they work with batteries and usually come with chargers that allow you use them repeatedly. There are different operation modes such as static, strobe, flash and fade, and all these are controlled by remote control, making it very easy to operate. Dance floor hire services are also available and will make your event fun especially when your floor is not suitable for dancing.
The light emitted from glow furniture is soft and not as harsh as incandescent light and it creates an exciting party mood. You can either use them alone or you can supplement them with other lightings. This glow furniture comes in different shapes and sizes such as the curved bench, bar table, coffee table, cube, corner bar and so on. Glow furniture and dance floor hire for your events is economical since you are not making any purchases.
You can get dance floor and glow furniture hire services by checking your business local listings or the internet and you should be able to easily find businesses like Bargain Party Hire near you offering these services.