Interested in purchasing awnings? Here's a bit of info on their different types!
For those who don't know, awnings are basically covers that extend over an area like a roof.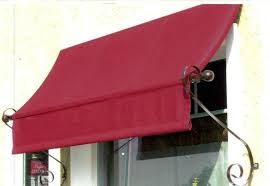 These are best used over door, windows and even decks. A major reason as to why these are used is because of their ability to protect the area against the weather.  Now, although there are countless varieties of awnings available these days, the ones used most commonly are fixed, retractable or freestanding ones. Here's a bit of info on all of them:
Fixed awnings
No matter if privacy screens are stationary or fixed, it is necessary for them to be permanently installed in a certain position at a given location. This typically includes them being placed over patios, decks, doors and windows. There are different shapes in which fixed awnings are available. This includes dome, concave, and the conventional straight-slop ones. These are typically made out of canvas, but can be purchased in metal too.
Retractable awnings
Retractable awnings can easily be folded or roller up in case you decide to take them off for a while. Although these are largely operated manually, you may purchase motorized ones as well. Believe it or not, but some of these come with remote control devices as well. The best thing about them is that they can be retracted when snow, wind or other harsh weather conditions could damage them.
Freestanding awnings
Freestanding awnings are basically portable or unattached, and can be placed wherever you want. These come with fabric stretched over a frame that is attached to two poles. These are more like canopies, the only difference being that canopies have four poles.
If you are interested in purchasing privacy screens, come to Millenium Blinds now!