Expert Kitchen and Bathroom Renovation can Make a Real Difference to Your Place
Whether you considering renovating your existing place or want a new house built at Hurstville or Lugarno, Lugarno Kitchens & Bathrooms can easily provide you with a lot of choices that are sure to transform your place more than what you had expected originally. We have been in the business of providing world-class home designing and consultation business for over 20 years and have helped transform several homes and make them look modern and appealing. Our kitchen renovation and bathroom renovation works are considered to be the best of their kind in the region. Customer satisfaction is one thing we can guarantee you upon choosing us for your design and consultation needs.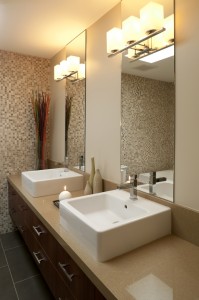 Lugarno Kitchens & Bathrooms services can be special for you in more than one ways. Just to make sure you are aware of and comfortable with kitchen renovation and bathroom renovation services, we can provide you free initial design and consultation services based on your initial requirements and specifications. In Lugarno and Hurstville, we also have mobile showroom so that you can visit them and explore all services and designs we can do for you. Once you are at our place you are free to check out our latest trends in the world of kitchen and bathrooms. We are licenced and have been plying our trade for over 2 decades with distinction. Design and renovation experts working with us are also experienced in complete project management. Therefore, in assigning us your projects, you can be sure of getting end-to-end services that will help make your place look like new and in-line with the latest concepts.
Lugarno Kitchens & Bathrooms' wide range of renovation services and designs means that you are sure to get your bathrooms and kitchens transformed entirely and within your specifications and budget. Try us today. You will understand why our bathroom renovation and kitchen renovation services are rated highly in Hurstville and Lugarno.
If you are looking forward to kitchen renovation and bathroom renovation works at your place in Lugarno or Hurstville, then consider having Lugarno Kitchens & Bathrooms as your service provider. We have the right experience and expertise in this business.