Backyard Cabin and Sheds Made Just Right for you
Cabin Kits Galore specialises in providing world-class timber products that you are surely going to like. In Sydney, we have different types of timber products like backyard cabin, backyard sheds, cubby house, garden shed, child's study, etc. exclusively for you. Whether you are a DIY enthusiast or want us to install the products for you, you will certainly find our cabins, sheds and other products to your liking. Besides being of superior quality, our products offer excellent value to your money. Just get in touch with us and see for yourself the different products we can provide for your place. You will be pleasantly surprised for sure.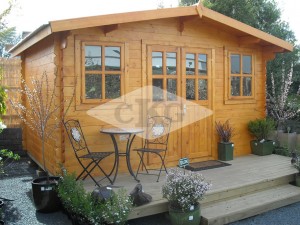 There is obviously more than one reason for you to choose us when it comes to shopping for backyard cabin and backyard sheds. First up, you are assured of getting excellent quality from us always. As a reputed company that is into the business for several years now, we only make use of high grade timber that is surely going to provide you high value for you. Our materials are not just durable but also flexible. You can literally construct different shaped and sized structures in using our timber products. Our cabins, sheds and other timber products can be constructed within 2 days; including the time taken for footings.
Our solid walls ensure you will get excellent insulation features that are sure to protect you from different elements of nature. Our backyard cabin and backyard sheds do not require lining. In fact, all you need to do is colour or strain them as you like. We can also provide sheds and cabins in different styles and sizes. Whilst all our timber products are easy to install and can be given a shape by yourself, you can also request for installation services from our technicians at affordable rates.
The best of timber products in Sydney can be had from Cabin Kits Galore. We also specialise in providing best-in-class and affordable backyard cabin and backyard sheds for different applications.