Turn To Millenium Blinds for Best Privacy Screens and Awnings
Having best-in-class and affordable awnings and privacy screens at your place can make a world of difference to your place. Besides providing you the straight-forward advantages with them, these products can easily provide a new look to your place and make it more appealing to the onlooker. In Sydney, the best of these products can be had from Millenium Binds. We have been a one-stop shop for window dressing options for Sydneysiders for a number of years. We take a lot of pride in providing these options and other related services that we truly consider as the best this city has to offer. We have been in this business for over 2 decades and love to serve our customers with full dedication and love.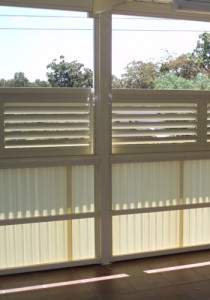 Our privacy screens are made of superior grade materials that will assure you total privacy wherever you employ them. The best part with these screens is that they are flexible. Therefore, you can use them depending upon your requirements. For example, these screens can be set completely or partially to block your view from prying eyes or direct sunlight. Furthermore our screens can be employed successfully across other area of your place including deck area, swimming pool, to ensure they are fully secured from neighbour's view. You can order for custom made privacy screens from us at affordable rates. Most of our screens are made of aluminium and are available to you in different colours, sizes and styles to help them match the existing decor of your place.
Our Awnings, on the other hand, are an excellent choice if you are serious about securing you and your belongings from direct sunlight and lowering your air-conditioning bills. Our products are not just useful for covering up your important places but also for providing a cool surrounding near you. In choosing Millenium Blinds you can be sure of getting these products in their modern forms. We make sure that our products are available to you in different types so that you can pick one based on your necessity and budget. Our awnings are extremely flexible and their motorised versions are also available with us. The designs of these products are made by us and are extremely simple. They can be used effectively against doors, decks and patios. You can have them in different styles and sizes. If you are interested in any of these products or want to try others, make sure you give us a call or send in requirements online. We will be glad to offer our excellent solutions to you.
If you like to see stunning options in privacy screens and awnings that can be used at your place then choose Millenium Blinds. We have some of the best window dressing options in Sydney.