Top Benefits of Bathroom Renovation – Confort and Add Value to Your Home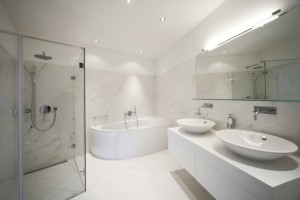 Lugarno Kitchen and Bathrooms offers comprehensive services for bathroom renovation, from consultation and design to project management. It is a known fact that a new bathroom can effectively add more functionality to your home and also increase your property value. However, there are many more reasons why you should consider bathroom renovation, as listed below:
Just by putting in a new bathroom or simply by making a few changes and renovating it, you will potentially be increasing the overall value of your home and make it easier to sell or lease out later.
A new bathroom that is fitted with energy efficient or water saving shower heads, toilets, faucets or building materials can help you save thousands in the future in terms of heating, water and electricity costs.
Your bathroom can be home to fungi, mold, bacteria and other allergens. People can get ill by being exposed to such allergens on a long term basis. By using high quality moisture and mold resistant materials during your bathroom renovation project, you can eliminate these allergens.
If you are interested in being more environment friendly, creating a new bathroom that incorporates green faucets, green sinks, toilets and low flow accessories will help you not just save the environment but also save utility costs in the future.
A well managed bathroom renovation project can enhance the functionality and make the space more practical as well as beautiful. Your bathroom does not have to be just a functional space, it can also be a relaxing sanctuary where you can be comfortable and unwind after a hard day's work.
There are a number of benefits associated with bathroom renovation, as it can be seen from the points discussed above. Visit Lugarno Kitchens and Bathrooms today to learn more about how we can help you create a new bathroom easily and cost effectively.