Interested in Having Kitchen Renovation? Try Lugarno Kitchens & Bathrooms
The immense pride they take in their kitchen renovation services has helped Lugarno kitchens & bathrooms to stand ahead in the competition and be considered as an ideal choice for people wishing to get a new kitchen and bathroom. Having been in this business for more than two decades, the company fully understands the needs of its customers and know how they can deliver on their promises to them. It is this belief that has helped Lugarno kitchens & bathrooms to establish long-term relationships with its customers based in Lugarno and Hurstville suburbs.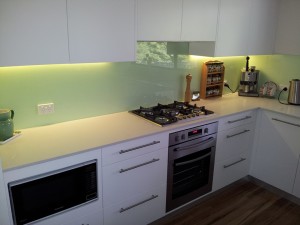 Being a fully licensed provider of kitchen renovation services, the company has the right accessories and experienced staff members to address to the needs of its customers. So whether you need a new kitchen or a new bathroom, they can guide you and help you with right direction and services. In this regard, Lugarno kitchens & bathrooms can be considered as a unique company in its category. The quality of services you can expect from this company is such that their work will clearly reflect your taste, needs and budget.
Getting a new kitchen at your home is easy. However, getting this area of your home done according to your original idea and budget is quite tricky. Kitchen renovation services provided by Lugarno will specially address to all your requirements and will ensure that you will be a satisfied customer at the end of the project. Hundreds of customers who have had a new kitchen at their homes through Lugarno have high regards for Lugarno's innovative and effective kitchen renovations services. So it is not surprising to see this company at the top of pile when it comes to providing kitchen and bathroom solutions in Hurstville and Lugarno suburbs.
The best part in choosing Lugarno kitchens & bathrooms services is that you get a wide range of choices. If you have been looking for a new kitchen model for your place, then this company can easily provide you with healthy choices. All you need to do is get in touch with them through e-mail or phone call and request for a free consultation and design. With years of experience in providing kitchen renovation services to its customers, they should be able to help you easily.
In addition to getting free consultation and design services, there is plenty to look forward to in hiring the kitchen renovations from Lugarno kitchens & bathrooms.  For example, you can look forward to experiencing latest trends in bathrooms and kitchens. There is also a wide range of accessories to look forward to. Customers can also hope for better project management techniques from this company. All in all, a dream new kitchen will be ready for you in the shortest possible time and within your budget!
Lugarno kitchens & bathrooms have been in the business long enough to understand your needs that will help set up an ideal home. Their kitchen renovation expertise should help you get a new kitchen that will help provide a new look to your home.