Bargain Cocktail Machine Hire Sydney Packages in the Town!
Just as it is important to feed your guests at your party in a luxurious way, it is equally important to keep them hydrated. Your party should have all the facilities that will enable your guests to have a drink at will. And the best way to ensure this is to have the cocktail machine hire Sydney or slushie machine hire Sydney packages developed exclusively for you through Bargain Party Hire. We are proud to say that we are among leading providers of these machines in Sydney and can cater to all your drinking needs at your party.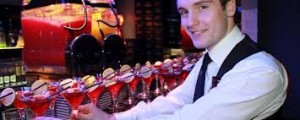 Why should you get our cocktail machine hire Sydney or slushie machine hire Sydney packages in Sydney? First up, you are sure to get these machines for the duration of your part at bargain prices. And guess what, these machines can make a real difference to your party. With over 10 years' experience in providing fresh and frozen margaritas, daiquiris, cocktails and slushies, we will have enough drinks at your disposal that will help quench every guest's thirst. It does not matter how big or small your party requirements are we can provide these machines accordingly.
The best part with our slushie machine hire Sydney and cocktail machine hire Sydney deals is that we can provide different kinds of machines to help provide the kinds of drinks that are sure to be a hit with your guests. Our double bowl and triple bowl machines are inspected thoroughly before they are sent across to your place. This is to ensure that they are in right shape to provide excellent service to you. Also according to the machine you hire from us, you can have 24L or 36L capacity slush mix at your disposal. As a complement we also provide 2 flavours of drinks free with every machine hired from us.
Nowhere in Sydney you will find slushie machine hire Sydney services better than the ones provided by Bargain Party Hire. We also provide reliable and affordable cocktail machine hire Sydney packages in the city.