Slushie Machine Hire – Winter Party Attraction
During a hot balmy summer day in Sydney, nothing beats a cool glass of soft drink or fruity Slushies. And the chilly winter evenings around the city call for a hot beverage. But the main point of consideration in choosing a drink still remains on the availability of the drinks and whether the drink is of your preference. Slushie machine hire make your dream come true.
There are a lot of people who would still go for a round of slushie or a cold cocktail on the breezy winter nights of Australia if they are up for it.
Why do people still brave a Cold Drink on a Cold Winter Evening?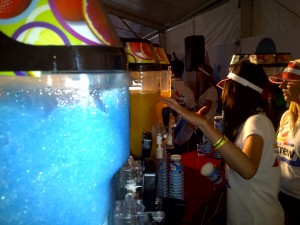 Contrary to popular belief, most choose drinks to please their palate and out of habit rather than to compliment the climatic conditions.
Sometimes people love the feeling of an icy drink to put in a good mood.
A cold cocktail gives you a much needed boost during winter months. It's just reverse psychology.
A cocktail themed party or a winter wonderland themed event calls for suitable drinks to embrace the theme of the event better and give the guests the appropriate experience.
Where would you get your Cocktail Fix during the months of Yule Tide
Surprisingly for those whose preferences are rules by their hearts and palates rather than the weather sometimes find it hard to find a place where they could find their favourite cocktail in a heartbeat during the cold winter months. Since most vendors only stack hot beverage dispensing beverages during these months, slushie lovers may find it tough getting one on the go easily during the winter.
How great would it be if you could grab a cocktail at an arm's length? How nice would an easily acquired glass of your favourite flavoured slushie be on a rainy day would be? What would bring more happiness than an icy colourful beverage on a snowy day?
Now that the weather is of romantic disposition, you may veer either ways in your choice of drink – a cold delicious drink or a lip-smacking hot beverage. There may be many takers for the hot beverage option, but that does not mean the cocktail lovers should be left in the lurch.
Thankfully there are cocktail machines for hire and so are Slushie Machines that can dispense lovely flavourful icy drinks any time as per your convenience
Slushie machine hire appeals to the idea of your favourite drink being within reach when you need it and not a few hours later brings in a feeling of satisfaction. It's the comfort factor of knowing that you can get your drink when it is convenient for you without having to brave this weather.
Affordable Slushie Vending Machine on Hire for Celebration Utility
Winters months call for winter, white wonderland and holiday themed cocktail events. During such events, the drink of demand is a cocktail that has exceptional flavours and compliment the theme. Getting a high quality Cocktail Machine Hire makes sense to please the guests with an array of fun cocktails and lovely fruity slushies.